TOMEI

SKU: 152016

Regular price

Sale price

$198.00

Unit price

per

Sale

Sold out

Some items may take 3-5 days to ship.
PRODUCT INFO
APPLICATION
IN/EX
P/N
NOTES
1JZ-GTE
2JZ-GTE
Comparible
152016
Non compatible with the intake side of VVTi engines.
FEATURE / SPEC
TYPE

MATERIAL

WEIGHT

PULLEY

GEAR

ADJUSTABLE

ANODIZED ALUMINUM

ANODIZED ALUMINUM

340g
■ Super Lightweight Duralumin
Duralumin was used for both the outer gear and the inner pulley section; we were able to significantly drop the weight whilst increasing durability.

■ SUPERIOR ACCURACY
Both the pulley and the inner plate have been milled to perfection. This ensures it's functionality for timing accuracy and maximum durability.

■ SUPERIOR DURABILITY
The hard anodizing surface treatment of the pulley increases the products surface durability substantially. This also decreases the wear rate on the gears teeth contact areas.

■ UNIQUE DESIGN THAT STANDS OUT
Every bit of the pure Duralumin was processed with the deep anodized colour.
With the functional design.

■ USER FRIENDLY ADJUSTABLE SCALE
Great consideration was taken in making a simple and easy to follow adjustable scale for anyone to understand.
TIPS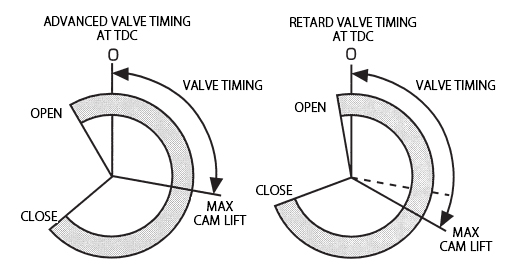 The simple graph makes it easy to change the engines characteristics with the simple sliding adjustments of the Cam Gear. If the intake valve timing is advanced (i.e. 120° to 110°) then performance gains are achieved at low RPM. If the intake valve timing is retarded (i.e. 110° to 120°) then performance gains are achieved at high RPM. Camshafts with no dowel pin attached will require you to check the timing adjustments with a dial gauge and scale board.
EASY VALVE TIMING ADJUSTMENTS WITH PONCAM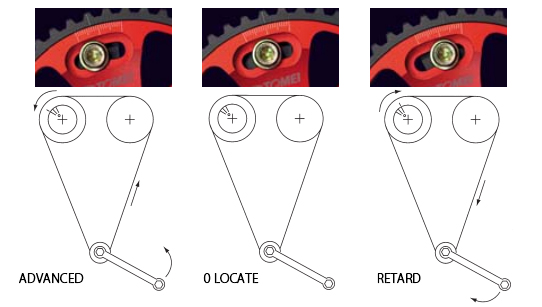 The Poncams valve timing has been preset at 110°. This Valve Timing has been calculated as the best setting for both performance and drivability. You can adjust the engines performance by making adjustments with the cam Gear carefully. This easy adjustable system is a great advantage over other conventional designs.
Share
View full details