TOMEI

SKU: 440016

Regular price

Sale price

$1,676.00

Unit price

per

Sale

Sold out

Some items may take 3-5 days to ship.

MORE POWER, LESS WEIGHT, DRAMATICALLY CHANGE YOUR WRX/STI.

High quality production, for true competition use without compromise. Only the best Titanium grade materials are used. From the special racing layout design, made as straight as possible, to the high flow silencer. We have poured our knowledge into it all. When you see our EXPREME Ti system, you can then understand that ours is unrivaled.
PRODUCT INFO
APPLICATION
P/N
NOTES
GR#
(5Dr HB)
GRB A-D/GRF B-D ※for JDM
440015
※FOR OFF ROAD USE ONLY.
GRF WRX STI 2008+/WRX 2011+ ※for USDM
440017
GV#
(4Dr Sedan)
GVB/GVF C-D ※for JDM
440016
GVF WRX STI 2011+/WRX 2008+ ※for USDM
440018
FEATURE / SPEC
for JDM

for USDM

MAIN PIPE A

MAIN PIPE B

SILENCER ASSY

BOLT M8 L=25mm

BOLT M8 L=55mm

NUT M8

CLAMP BAND

SPRING

SILENCER BAND

BAND RUBBER

SOUND REDUCER

ALLEN KEY

MAIN PIPE A

MAIN PIPE B

SILENCER ASSY

GASKET FOR TOMEI DOWNPIPE

GASKET FOR STD DOWNPIPE

BOLT M10

NUT M10

BOLT M8 L=25mm

BOLT M8 L=35mm

NUT M8

CLAMP BAND

SPRING

SILENCER BAND

BAND RUBBER

SOUND REDUCER

ALLEN KEY
SPEC
TOMEI(GV)
STD (GV)

MATERIAL

TITANIUM

IRON

MAIN PIPE DIAMETER

Φ80.0
(GV)Φ60.5-42.7×2

MAIN PIPE THICKNESS

1mm
1.5mm

SILENCER DIAMETER

Φ152
–

SILENCER THICKNESS

1mm
–

EXIT DIAMETER

Φ115
Φ80×2

EXIT THICKNESS

1mm
8mm

 

2 HEAVY PIPES

FLANGE THICKNESS

JDM:2.0mm/USDM:8.0mm
2.0mm

WEIGHT

JDM:7.0kg/USDM:7.2kg
23.0kg

JDM : 16kg USDM : 15.8kg DROP!
DATA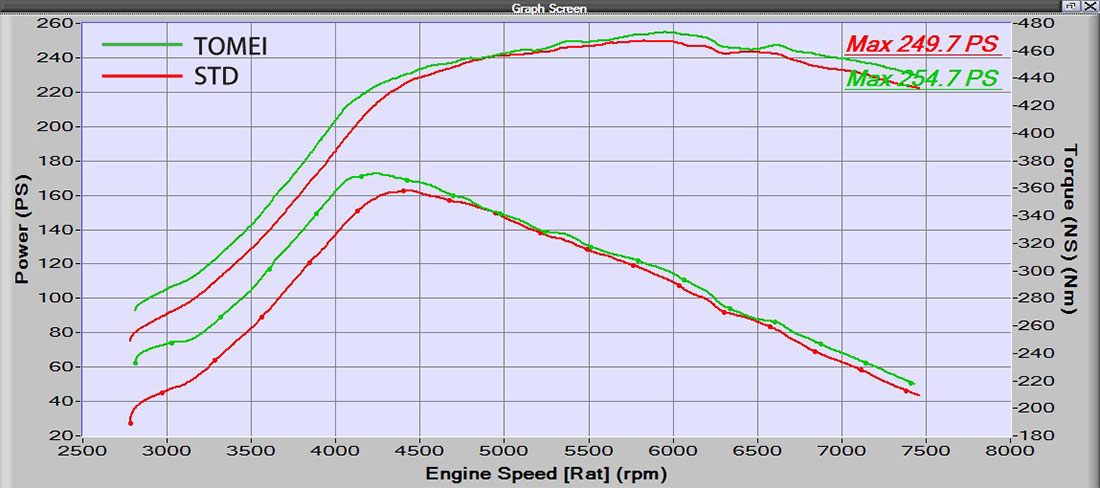 WRX '08-'14/STI '11-'14 (4Dr) EJ25 TESTED @ 4800rpm

WRX'11-'14/STI '08-'14 (5Dr) EJ25 TESTED @ 4650rpm

EXHAUST NOISE TEST

Without Inner Silencer

:105db


With Inner Silencer

:96db

Without Inner Silencer

:99db


With Inner Silencer

:95db

When aiming for true performance efficiency, we had chosen to design the exhaust with the least amount of bends as possible. Just like the true purpose built race cars, in a racing layout design, yet to still comply with the stock body design so it can be fitted to any street used vehicles.
A :
MAIN SILENCER/ TAIL END
Compared with the stock design, our design is single piping all the way for max weight reduction. We have also focused on the design of the muffler to produce the best exhaust sound without compromising performance.
B :
MAIN PIPE
The pipe diameter was chosen for optimum exhaust flow efficiency. For performance use in mind and weigh reduction. Thus the slide joints was made instead of using the conventional flange and gasket design.
C :
SUB SILENCER
This sub silencer was designed with a simple structure and minimal size to reduce unwanted noise. Without hindering exhaust gas flow.
The conventional style flange is not used to help reduce weight even further. The use of the springs and clamps eliminates the need for gaskets as well.
GV#


GR#


Share
View full details