Control Oil Diversion, Scatter, Flow & Vapor Mixture, Stabilize Oil Supply.
The cars inertial forces from acceleration, deceleration and cornering will affect the oil in the pan and can also create the "Windage" phenomenon from the sloshing of the oil in the pan. Controlling these problem factors are an absolute must on performance use engines to prevent terminal engine failure. When cost factors are in place or sump upgrade restrictions apply this is the best affordable upgrade on the market for the RB26DETT engine. The TOMEI dynamic baffle plates are designed for the stock RB26 oil pan for ease of installation.
PRODUCT INFO
APPLICATION
ENGINE
P/N
BNR32
BCNR33
BNR34
RB26DETT
194015
FEATURE / SPEC
■ LOWER PLATES CONTROL THE OIL FLOW

The lower baffles will help control the flow of oil from inertial forces during cornering with the use of the rubber flaps which act as one way valves on all sides. This design will keep oil around the oil pickup at all times.
OIL FLOW IN THE PAN
---

When the oil moves away from the pickup and air gets sucked in, in an instant the oil film is cut and then there is metal contact which will see the temperatures soar and can lead to terminal engine failure.
---
■ UPPER PLATE CONTROLS OIL SIDEWAYS AND UPWARDS SPLASHING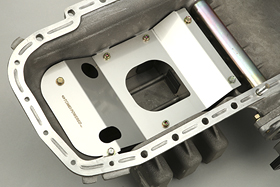 The upper plate which lies horizontally stops the oil from rising up too high so to help keep the crankshaft dry and to minimize chances of the "windage" phenomenon.
OIL DYNAMICS AND SLOSHING IN THE PAN
---

If the oil is allowed to slosh vigorously during heavy driving, the spinning crankshaft can agitate the oil and cause air bubbles in the oil which can cause the oil film to get cut off due to air getting into the oil lines.