TOMEI

SKU: 1405260091

Regular price

Sale price

$469.00

Unit price

per

Sale

Sold out

Some items may take 3-5 days to ship.
PRODUCT INFO

APPLICATION
DURATION(°)
MAX CAM LIFT(mm)
IN/EX
P/N
ENGINE
MODEL
IN
EX
IN
EX
2JZ-GTE
EARLY
264
264
9.50
9.50
IN & EX Set
143072
2JZ-GTE
LATE
252
260
8.90
9.10
IN & EX Set
143075
※PRESET VALVE TIMING
※STOCK VALVE SPRING COMPATIBLE
---

APPLICATION
DURATION(°)
MAX CAM LIFT(mm)
IN/EX
P/N
NOTE
ENGINE
MODEL
2JZ-GTE
EARLY
264
9.50
IN
1402264095
PONCAM
EX
1403264095
PONCAM
270
10.80
IN
1402270108
For Inner shim kit
EX
1403270108
2JZ-GTE
LATE
252
8.90
IN
1404252089
PONCAM
260
10.80
IN
1404260108
For Inner shim kit
9.10
EX
1405260091
PONCAM
270
10.80
EX
1405270108
For Inner shim kit
※The camshaft for the inner shim kit requires the inner shim kit.
FEATURE / SPEC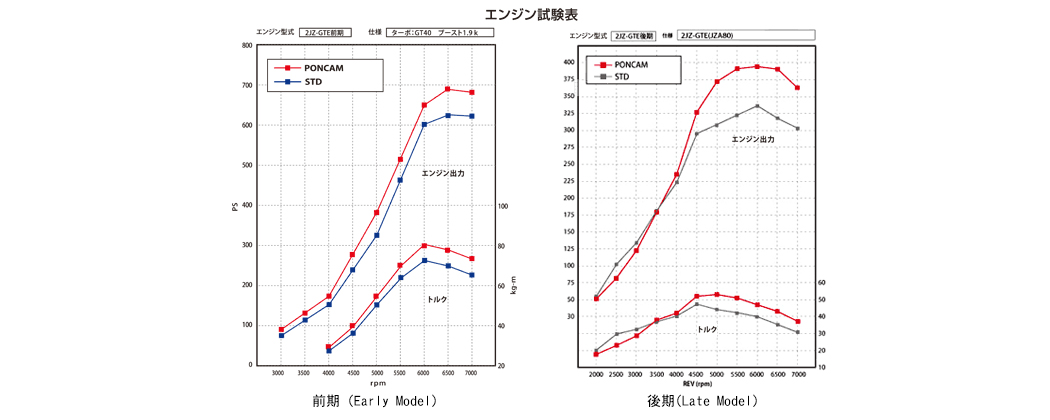 ---
■ SPEC
ENGINE

Duration

Max Cam lift (mm)

IN/EX

Max Valve lift (mm)

Cold Valve Clearance
(mm)[±0.01]
Valve Timing Centerline
(Deg)

Base circle

Note

2JZ-GTE


Early model

264
9.50
IN
9.30
0.20
113
36.0
PONCAM
EX
9.20
0.30
118
PONCAM
270
10.80
IN
10.60
0.20
113
34.8

For Inner shim kit

EX
10.50
0.30
118
2JZ-GTE


Late model

252
8.90
IN
8.70
0.20
125
36.0
PONCAM
260
10.80
IN
10.60
0.20
125
34.8

For Inner shim kit

9.10
EX
8.80
0.30
115
36.0
PONCAM
270
10.80
EX
10.50
0.30
115
34.8

For Inner shim kit
Asymmetrical G-Controlled Profile
| | |
| --- | --- |
| | When opening the intake valve during high acceleration the G from the camshaft requires to send as much mixture to the cylinder in the shortest time possible. However if the speed is too high it can damaged the Valves, Valve Seats and Valve Springs if the Acceleration G is too high. The Asymmetrical profile design given to the camshafts will allow the Intake and Exhaust Valves to fulfill the target requirement with the wider duration and high lift without damaging the Valve System. |
Maximizing the Valves Efficiency


The general purpose of engine tuning is to change the torque characteristics of the engine by changing the cams duration timing and cam lift amount for maximum torque and horse power. However tuning the engine is not only based on that. When going into finer details by maximizing the Valves efficiency is not just about timing and height lift but to also maximize the intake efficiency. The high valve lift allows huge amounts of air in but at the same time it mechanically damages the valve train and gains added friction loss. Longer cam durations and big cam lifts give deliver more power at higher engine speeds but it also gives a rough idle and at low engine speeds. Tomei engineers worked hard to produce camshafts that will deliver a well balanced profile at 1.3-1.5 times more than the stock camshaft.
| | |
| --- | --- |
| | Every camshaft is carefully built through these production processes. Plus, strict inspection will be given to them and only the highest quality products are shipped. |
Coating the surface of camshaft with manganese phosphate in order to protect from damage even when the camshaft has not lubricated yet. This has done by steeping press process that produces 0.5mm to 15 micromillimeter thin of manganese phosphate coating on its surface to prevent from direct contact with other metal parts while realizing smooth operation.
CNC Super Precise High Speed Grinding

The combination of a ultra high-speed main bearing and diamond grindstone is controlled by the computer. By using the same special-purpose machine as an automaker, high precision grinding is realized though in 1/3 period of time. Consequently, incredible accuracy of profile and remarkable price were realized at the same time.
Wavy Groove Finish by Oscillation Grinding
| | |
| --- | --- |
| | Wavy groove is curved to the cam profile surface by oscillation during cam grinding process. Oil pool that is formed on the cam profile surface reduces a friction loss and prevents locking. |
Share
View full details