TOMEI

SKU: 151084

Regular price

Sale price

$190.00

Unit price

per

Sale

Sold out

Some items may take 3-5 days to ship.

SUBARU EJ20/25 engine was designed with a lengthy 227mm timing belt that stretches acorss the entire length of the horizontally opposed engine,powering the water pump in the middle.
Occasionally in the stock timing belt's case, the belt becomes stretched. offsetting the valve timing of in worst cases, the engine suffers major catastrophic failures.
Tomei's EJ20/25 timing belt is highly resistant against this stretching issue and especially to heat because of the aramid cloth and the strongest glass fibers that are incorporated into the design.
Nylon Micro Fiber kneaded in the rubber also prevents tooth-jumping by increasing the tooth strength.
The utilization of this timing belt effectively maintains the correct operation of the valve timing that keeps the engine lasting for longer period of time.
PRODUCT INFO
APPLICATION
P/N
NOTES
EJ20#
EJ25#
DOHC
IMPREZA
('92~'14)
GC/GF , GD/GG , GE/GH/GR/GV
151084
Non compatible 1.5L/1.8L/SOHC

WRX STi
VAB
LEGACY
('89~'14)
BC/BF, BD/BG, BE/BH, BL/BP, BM/BR
FORESTER
('97~'12) SF, SG, SH
FEATURE / SPEC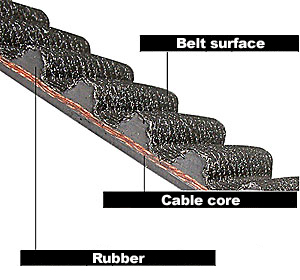 | | STD | TOMEI |
| --- | --- | --- |
| Rubber | H-NBR | High Saturation H-NBR + Nylon Micro Fiber |
| Cable Core | Glass | High Strength Glass |
| Belt Surface | Nylon Cloth | Nylon + Aramid |
【

LIFE COMPARISION

】
Cutting Prevention:3.5 – 4 x more
Heat Proof:2.5 – 3 x more
Crack Prevention:11x more
Wear Proof:2.5 – 3 x more
Tnsion Life:2.5 – 4 x more
* When Compared WithThe Standard Belt
Share
View full details