TOMEI

SKU: 191263

Regular price

Sale price

$80.00

Unit price

per

Sale

Sold out

Some items may take 3-5 days to ship.

Horizontally opposed engines combust structurally at 180 degrees; increasing the chances of the camshafts not performing at their maximum lift. Because of this, installing high lift camshafts in these engines may create unnecessary belt vibration leading to the pulley spinning off the rotating assembly. Without the pulley in its rightful place, the valves and the pistons are guaranteed to make contact in this situation. The manufacturer had created a component to eliminate this costly damage, called the belt guide. However, this belt guide is constructed from thin sheet metal which lack strength and rigidity with overall attributes that simply cannot securely maintain the belt and pulley at times.
Tomei Powered has constructed a beefy belt guide cut straight from aluminum with an extended length to securely apply more tension to the timing belt. This product comes in handy when immediate changes in torque are experienced by the engine, eliminating belt whip. The Anodized surface creates a smooth and precise belt track as well.
PRODUCT INFO
APPLICATION
P/N
NOTES
EJ20#
EJ25#
191263
Material:Aluminium
Kit Contents:Belt Guide×1、Bolt×2
FEATURE / SPEC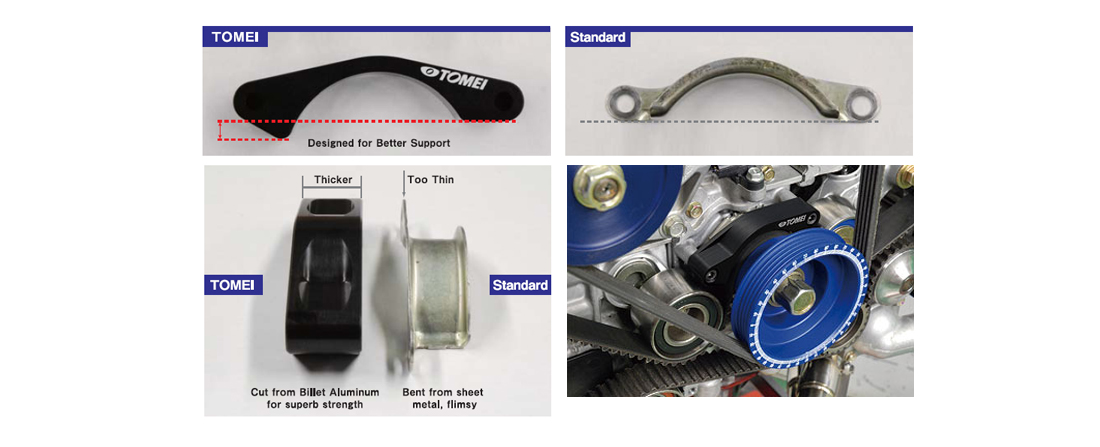 Share
View full details