Dramatically reduces the secondary back pressure!
The stock turbo outlet tends to build up too much secondary back pressure due to its restrictive capacity.
The new design is capable of supporting even higher flow compared to the whole design and removing the
intake / compressor housing relieves.
PRODUCT INFO
APPLICATION
P/N
NOTES
RB26DETT
BNR32/BCNR33/BNR34
421001
FEATURE / SPEC
TOMEI
STD

SUS316 Full Cast

BNR32/BCNR33
BNR34
Fr
Re
Fr
Re
Fr
Re

MATERIAL

SUS316

CASTED STEEL

PRESSED & WELDED

EXIT DIA.

approx.

Φ66

approx.

Φ58

approx.

Φ55

VOLUME

800cc
900cc
630cc
730cc
600cc
725cc

PIPE THK.

approx.

2.8mm

approx.

4.5mm

approx.

2.0mm

FLANGE THK.

approx.

11mm

approx.

11~14mm

approx.

11.6mm

WEIGHT

1.85kg
2.10kg
2.3kg
2.7kg
1.75kg
1.9kg
The new model is designed to clear the air intake piping and the turbo compressor housing without the concaves from the previous model that helps even smoother exhaust flow. The new model is made of high quality SUS316 material instead of the SUS304 from the previous model to withstand even more severe conditions.


---
■ Wrenching clearance for easy installation.
Designed to be a hassle free installation. We have incorporated a dimple in the pipe where the bolt for the flange is located. To allow ease of access to both bolts and nuts to allow a quick, trouble free bolt on application.

 

---
■ Wide mouth design & Step-less connection with a 70mm front pipe.
Dumps the exhaust gas from the turbo straight onto the front pipe without reducing the flowing speed.

 

---
Updated to the same finish as the Tomei Full Cast Exhaust Manifold (sold separately) for a matching and better appearance.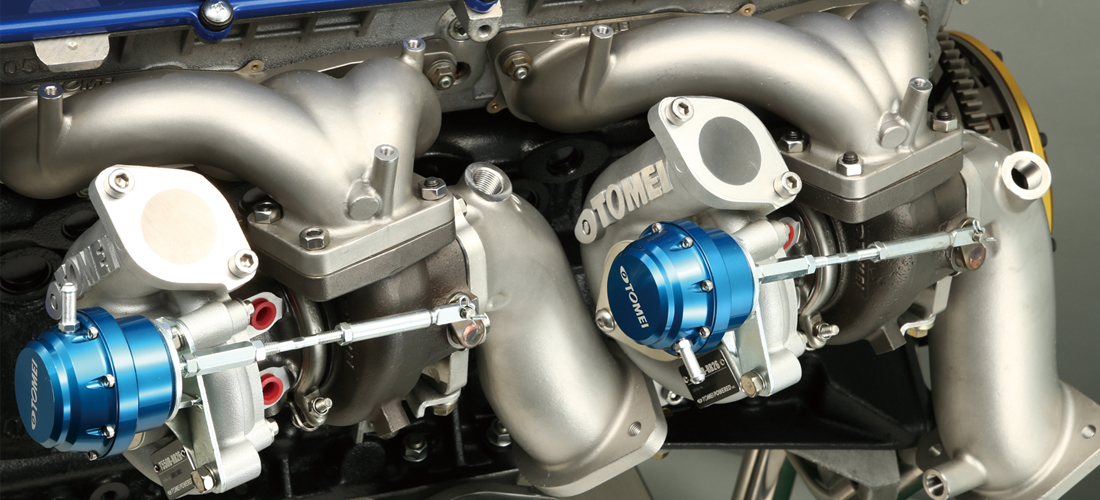 OUTLET PIPE(FRONT SIDE/REAR SIDE)
OUTLET GASKET(FRONT PIPE SIDE)
BLIND BOLT
NUT
O2 ADAPTER
STUD BOLT